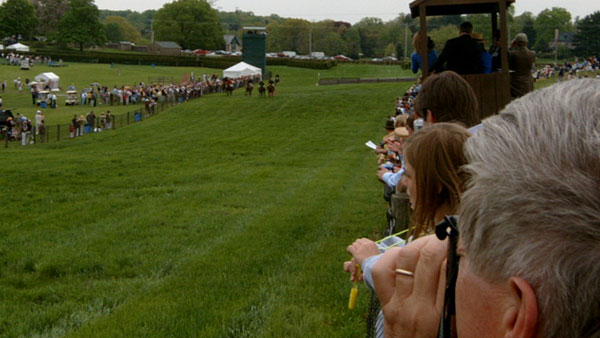 Steeplechase races at Winterthur, Point-to-Point...
Brandywine Valley, May 2012
The tourist season offically begins with Wintertur's Point-to-Point steeplechase races, the Wilmington Flower Market, The Brandywine River Mustem Antique Show, Longwood Fireworks and Fountains show and much more. The sun will be shining and the valley will be brimming with activity. A great time to visit and stay a while.
To receive this newletters by email,
click here.
Events
Annual Trout Rodeo at Anson B. Nixon Park ( Saturday, May 5, 2012)
Kennett Square, PA


For some outdoor fun join anglers and casual fishermen at the Trout Rodeo rain or shine at the Anson B. Nixon Park. The ponds will bespecially-stocked with trout ranging in length from 12 to 24 inches. Also featured at the event will be tagged fish, a fly-tying demonstration, bait and fishing supplies, a raffle as well as grilled sandwiches and more. Prizes and trophies will be awarded. Tickets may be purchased at Buck's Hunting and Dog Training Supplies or day of event. The Rodeo is sponsored by the Kennett Area Park Authority and the Red Clay Valley Association. Proceeds benefit the maintenance of the AnsonB. Nixon Park. For information, call 610-444-0792.
64th Wilmington Garden Day (Saturday, May 5, 2012, 10AM-4PM rain or shine)
Wilmington, Delaware



Garden Day is a self-guided tour of Unique, Stylish and Distinctive Gardens and Homes - from City Miniatures to Country Estates - in the greater Wilmington area. 22 beautiful gardens - including 13 open homes.

Tickets

$30 in advance, $35 on Garden Day.
Historic Autos at Winterthur (May 5, 12, 19, 26, 2012)
Winterthur Museum | 5105 Kennett Pike | Winterthur, DE  19735


In May enjoy a series of displays of magnificent historic automobiles. Step back in time to see elegant automobiles of the country-estate era. Each Saturday will feature a different thematic display. Weather permitting. Members free. Included with admission ($6.00-$18.00). 


34th Winterthur Point-To-Point Races (Sunday, May 6, 2012)
Del. Rt. 52 | Wilmington, DE | 302.888.4600 / 800.448.3883


A highlight of the local social calendar, Point-to-Point is an old-fashioned country race featuring horse racing, antique carriages and elegant tailgate picnicking. For this year's Point-to-Point the culinary arts will come hoof to hoof with the elite horse racing as celebrity chefs Dana Herbert and Jennifer Behm serve up cooking demonstrations and tastings, and raise a glass to toast to Winterthur's new exhibition Uncorked! Wine, Objects & Tradition at the Hunt Brunch Tent and the Tasting Tent.  10:30am-4:00pm. Adult-$30.00,12-20-$15.00, Under 12-Free. Tickets go on sale starting March 1, 2012.
Wilmington Flower Market (May 10, 11, & 12, 2012 10am-7pm)
Rockford Park | Riverview Ave. | Wilmington, DE | 302.995.5699


If it's spring in the Valley that means the Wilmington Flower Market. A three-day annual ritual that benefits charity. Featured are plant and flower sales, distinctive boutiques and a midway featuring rides and games for the entire family.
Stateline Loop 9K/5K Trail Race (May 12, 2012)
The Land Conservancy for Southern Chester County



On Saturday, May 12, 2012, The Land Conservancy for Southern Chester County (TLC) will be holding the annual Stateline Loop 9K/5K Trail Race on the Stateline Woods Preserve located at 814 Merrybell Lane, Kennett Square, PA 19348.  The trail run traverses two nature preserves and some of the most amazing scenery in southern Chester County.  Runners will see first-hand why we strive to protect such beautiful woodlands, meadows, and agricultural lands.   Support conservation and land preservation in southern Chester County while enjoying great competition.  More information available at www.tlcforscc.org. 
31st Annual Wildflower, Native Plant and Seed Sale (May 12 & 13, 2012 )
9:30 a.m. - 4:30 p.m. Brandywine River Museum | Chadds Ford, PA |



Gardeners can choose from a superb selection of low-maintenance, beautiful native plants that are suitable for sun or shade and all types of landscapes. Natives plants are a great way to "go green" because they are adapted to the local growing conditions and require less water and intensive care in the garden. Many varieties will attract songbirds, hummingbirds and butterflies and are as useful for strengthening the local ecosystem as they are low-maintenance additions to the garden. All proceeds from the sale benefit the Conservancy's diverse and beautiful Wildflower and Native Plant Gardens. Free admission.
Willowdale Steeplechase (Sunday, May 13, 2012)
101 East State Road | Kennett Square, PA | 610.444.1582


A full day of pony races, Jack Russell terrier races, people watching along with a wide variety of dog breeds, vendor booths, children's activities, food and fun for the entire family. And the main event, the exciting steeplechase races. Admission $20 per person in advance, $25 day of race. Children under 12 are free. At the intersection of Rt. 926 & 82 behind the Landhope Farm store in Unionville, PA.
82nd Radnor Hunt Races (May 20, 2012)
826 Providence Road | Malvern, PA


A spring tradition of steeple chasing at the Radnor Hunt. Six races feature horses galloping over hurdles and timber fences for purses totaling $160,000. Proceeds benefit the land and water preservation programs of the Brandywine Conservancy in Chadds Ford, PA.
Memorial Day Picnic and Wine Weekend (May 26 - 28)
Chaddsford Winery | Rt. 1 | Chadds Ford, PA | 610.388.6221



Throughout the weekend, enjoy light music, picnics, food from Joseph's Catering and wine tastings. Traditional Bar-B-Q items such as grilled beef, chicken, ribs as well as tasty sides and lemonade will be served. Tastings will be held in the cellar; $10 tasting fee.  A host of live performers will entertain the crowds. Open 12 - 6 p.m. each day.


Brandywine River Museum Antiques Show (May 26 - 28, 2012)
Brandywine River Museum, Chadds Ford, PA | (610) 388-2700


Outstanding antiques from across the nation are featured at the Brandywine River Museum Antiques Show. This event, hosted by the Museum Volunteers, presents a variety of American and English furniture, glass, metalware, ceramics, folk art, quilts, Oriental and European porcelain, rugs and other fine collectibles. Proceeds support the Museum Volunteers' Art Purchase Fund. Admission $12.
Longwood Gardens Fireworks and Fountains (Saturday, May 26, 2012 - 9:15PM)
Longwood Gardens | Kennett Square, PA |


Spectacular show set to music. Absolutely breathtaking. Special ticket required and should be purchased in advance.


Barns-Brinton House Opens Weekends (May 27, 2012 )
Chadds Ford Historical Society | Rt. 100 | Chadds Ford, PA | 610.388.7376



1-5PM. A day of educational activities geared to all ages.
Weekend tours all summmer.
John Chad's House Opens (May 27, 2012)
Chadds Ford Historical Society | Rt. 100 | Chadds Ford, PA | 610.388.7376



1 - 5PM. A day of educational activities geared to all ages including baking and papermaking demonstrations and more. Weekend tours all summmer.
At The Attractions
| | |
| --- | --- |
| | Longwood Gardens |
Longwood Gardens

Spring Blooms through May 20

See the spring annuals ...pot marigolds and snapdragons in May. Peirce's Woods are loaded with native azaleas, columbines, Virginia bluebells, and foam-flowers.



| | |
| --- | --- |
| | Winterthur Museum, Garden & Library |
Winterthur Museum, Garden & Library
Featuring more than 300 objects, nearly all from Winterthur's Museum and Library collections, Uncorked! explores how wine was marketed, consumed, and enjoyed in America and Britain from the 1600s through the 1800s. A wide range of materials are represented, from wine bottles, decanters, and cellarettes to lead figures of Bacchus and Champagne Charlie song sheets. Advertisements, trade cards, pattern books and other paraphernalia provide vivid examples of cultural values and attitudes of the times.
The events and programming for the exhibition will feature wine dinners, wine cellar tours, evening regional winery tastings coupled with a jazz series, wine enthusiast-related workshops and education, and evening specialty connoisseurship and collector lectures. In addition, a lunchtime lecture series will be presented by wine historians, collectors, and curators of drinking vessels. The lecture topics are designed to entertain and enrich the audience's understanding of wine and its colorful past.



| | |
| --- | --- |
| | Brandywine River Museum |
Through May 20
Brandywine River Museum

Scribner's Magazine: The  Early Years in Illustration

This exhibition introduces visitors to the importance of the illustrated magazine in the late 19th and early 20th centuries, and emphasize the primacy of Scribner's Magazine during the "golden age of illustration."  Scribner's art editors hired the best artists and illustrators, and the exhibition will feature the works of many of these artists, among them Robert Blum, Charles Dana Gibson, Thornton Oakely, Rose O'Neill, Maxfield Parrish, Howard Pyle, Frank Schoonover, John H. Twachtman and N. C. Wyeth.  Scribner's also kept pace with technological developments in printing, and the exhibition will show the effects of radical changes in printing techniques that occurred between 1887 and 1912.  The earliest illustrations in the magazine were reproduced as wood engravings.  By January 1912, the magazine routinely printed four color reproductions.T



| | |
| --- | --- |
| | Delaware Art Museum |
Through July 15, 2012



Through December 2012