Brandywine Battlefield

U.S. Rt. 1 | Chadds Ford, PA | 610.459.3342


Brandywine Battlefield Website

Overview

The Brandywine Battlefield visitors center, just off Route 1 at Chadds Ford, is set amidst 50 acres of rolling park and woodlands. Inside are historical exhibits of uniforms, weapons and artifacts found on the battleground. On the park grounds, not far from the center are both Washington's headquarters (the Ring House) and Lafayette's quarters (Gideon Gilpin's farm house). The actual battle took place over a 10 square mile area. The British approached Chadds Ford from Kennett Square, splitting their forces and trapping the American's between them. The battle's final conflict took place near the Birmingham Friends Meeting house.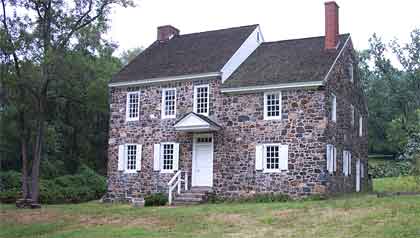 The Benjamin Ring House

The Ring house, owned by Benjamin Ring, a Quaker farmer and miller, served as Washington's headquarters before the battle. The house was well situated on high ground near Chadds Ford where the British were expected to cross the river. Washington used the house to plan his battle strategy, meeting with his generals on September 9th.

Christian Sanderson lived in the house from 1906 to 1922 and entertained thousands of curious visitors there. It was his hope that "...some day there will be a state park on the battlefield". There is a plaque at the house in his honor, put there in 1977 by the Christian Sanderson Museum in Chadds Ford. It reads, "More than any individual in his time, Christian Sanderson focused attention on the Battle of Brandywine, September 11, 1777". After Sanderson left the house, it fell into disrepair and was damaged by a fire in the early 1930s. The house has been restored and is now as it was when Washington met with his generals at summer's end, on the eve of the Battle of Brandywine, Sept. 10, 1777.



Gideon Gilpin's House, Lafayette's Quarters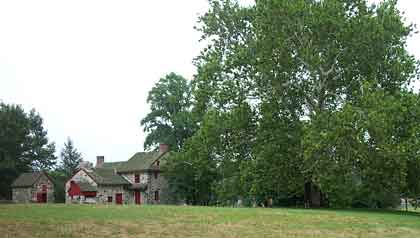 The 19 year-old Marquis de LaFayette saw his first military action in America at the Battle of Brandywine, where he was wounded in the leg fighting with Washington near the Birmingham Friends Meeting. Lafayette was quartered in the house of Gideon Gilpin, a Quaker farmer, whose property, along with that of Benjamin Ring, the Dilworthtown Inn and other area residences, was plundered by the British soldiers after the battle. The house looks much as it did in 1777 when Lafayette stayed there, except for the Lafayette Sycamore an amazing 391 year old tree that now dwarfs the structure.

Gilpin filed a claim for losses in September 1777 which included 10 milch cows, 1 yoke oxen, 48 sheep, 28 swine, 12 tons of hay, 230 bushels of wheat, 50 lbs. bacon, a history book, and one gun.

©2014 Unica Online
Washington's and Lafayette's Quarters Photos by S. Fox © 2001


Brandywine Battlefield Park

Visitor Center:
The Battle of Brandywine and the American Revolution are presented in the park's modern Visitor Center. On exhibit are uniforms, rifles, canon and other weapons. An 18 minute film presentation tells the story of the battle in the context of the Philadelphia Campaign of 1777.

Hours of Operation:
Tuesday-Saturday: 9 AM - 4 PM
Sunday: 12 PM - 4 PM

Washington's Headquarters Tour
Washington's HQ tours start at 10 AM daily and continue every hour except noon, with our last tour offered at 3 PM.
Tuesday-Saturday: 10 AM, 11 AM, 1 PM, 2 PM, 3 PM
Sunday: 1 PM, 2 PM, 3 PM

House Tour, Museum, and Film Package:
-$8.00 Adults
-$7.00 Seniors, AAA, AARP
-$5.00 Children (6-17)

Directions: The battlefield is located on Route 1 in Chadds Ford, on your left as you head north toward Philadelphia and on your right as you head toward Kennett Square and Longwood Gardens.

Accounts of the Battle
The Battle of Brandywine, an account of the battle published by the Pennsylvania Historical and Museum Commission.
The Military Journal of George Ewing, A Soldier in the Battle War Times Journal, The Battle of the Brandywine, by Edward G. Lengel (map)
The Battle of the Brandywine, includes, background, the March to Brandywine, the Battle... in depth account.
The Battle of Brandywine, Setback for the Continental Army

Re-enactors & Organizations
The Continental Line
The Brigade of the American Revolution
The British Brigade

The Battlefield
Driving Tours of the Battlefield