Chester County Historical Society

225 N. High Street | West Chester, PA | 610.692.4800

CCHS Website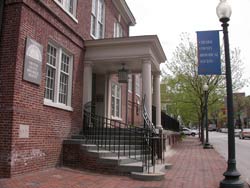 Overview

The Chester County Historical Society (CCHS) is a nonprofit educational institution that promotes an understanding of the history of Chester County and southeastern Pennsylvania, and its relationship to the region and the nation. The home for CCHS is The History Center, a 48,000 square foot facility located in downtown West Chester, steps away from many restaurants and stores. Within the History Center are our museum, library, photo archives, museum shop and administrative offices.



2011 Chester County Antiques Show

Collecting Knowledge: A Lifelong Pursuit
A benefit for the Chester County Historical Society
PECO is proud to present the 29th Annual Chester County Antiques Show! This year includes 60 exceptional dealers, featuring 18th and 19th Century American and ContinentalFurniture, Rugs, Paintings, Porcelain, Glass, Silver, Jewelry, Needlework and otherDecorative Arts.

Preview Party
Friday March 18th early admission 5:00 pm ($200.00), regular admission 6:00 pm to 9:00 pm ($130.00).
Show Hours
Saturday, March 19th 10:00 am to 7:00 pm
Sunday, March 20th 11:00 am to 5:00 pm
($15, includes a catalog and free parking).

For more information, call the Chester County Historical Society at (610) 692-4800 or visit us online. IIf you are interested in becoming a Sponsor of the Chester County Antiques Show, please contact David Reinfeld at 610-692-4800 ex267 or dreinfeld@chestercohistorical.org.



The Cultural Center

The Cultural Center is to entertain, enlighten and foster growth in arts and cultural programs and events in Chester County. CCHS strives to integrate historical relevance and Chester County significance into our programs and events as much as possible.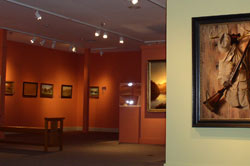 Exhibits

Explore the galleries filled with outstanding examples from the Society's 70,000 strong, nationally recognized 18th and 19th century decorative arts collections. Learn about Chester County's past and gain insights into our world today by experiencing our permanent and changing exhibits. Seven galleries tell the story of daily life and work in the region from the 1600's to the present.



Collections

Photo Archives | Museum | Library | County Archives
Appreciated by the novice and the envy of the expert, CCHS' well respected collections represent more than three centuries of regional history- the ordinary, the elegant, the unusual and the necessary. View examples from one of the finest needlework, quilt and Quaker clothing, spice box, furniture and decorative arts collections in the country.

If historic photographs are what you seek, the CCHS collection of over 80,000 historical photographs spans the history of photography from daguerreotypes made in the 1840s to modern color images.



Museum Shop

Select from a broad range of local history books, local authors, genealogy, Witmer 1873 Township map reproductions, selections of vintage photographs of Chester County landscapes, buildings, people, businesses, organizations and events and assorted exhibit related gift items. 

© Unica Multimedia
Chester County Historical Society
Hours: The Museum, library and museum shop are open Wednesday through Saturday, 10 a.m. to 5 p.m. Closed Thanksgiving, Christmas Eve, Christmas and New Year's Day
Admission: CCHS members: FREE, Adults: $6/person, Seniors (65+): $5/person, Students (with ID): $3.50, Children 6-17: $3.50, Children (under 6): Free, AAM members (with member card): Free.
Accessibility: Barrier-free access is available throughout the History Center. A ramp for individuals requiring wheelchairs is located on High Street at the front of the History Center.
Parking: A public parking garage is located immediately across the street from the History Center on Chestnut Street. Metered on-street parking is also available on High and Walnut Streets.