NEW AMERICAN CLASSICS
from the Brandywine Valley

Chaddsford Winery

632 Baltimore Pike (U.S. Route 1) Chadds Ford, PA 19317
610.388.6221
www.chaddsford.com
Calendar of Events
Wine Selection

Just about midway between the Brandywine River Museum and Longwood Gardens on Route 1, you'll find one of the Brandywine Valley's best surprises, the Chaddsford Winery. Acknowledged as Pennsylvania's largest and most recognized winery, it has achieved a national reputation for producing world-class, European style wines from light to rich and earthy in taste. And they're reasonably priced too!

Open year-round for tours, tastings and sales, the Chaddford Winery is perhaps best known for their Chardonnay. Chaddsford Wines have been highly rated in recent reviews in such prestigious publications as Food & Wine, Gourmet Magazine, Robb Report and The New York Times. Many of their wines including Merican, Merlot, Cabernet Sauvignon, Pinot Noir and their Chardonnays have won awards in international wine competitions. In 2008 Chaddsford Winery had the honor of being named to Wine Enthusiast's list of "America's Top 25 Tasting Rooms".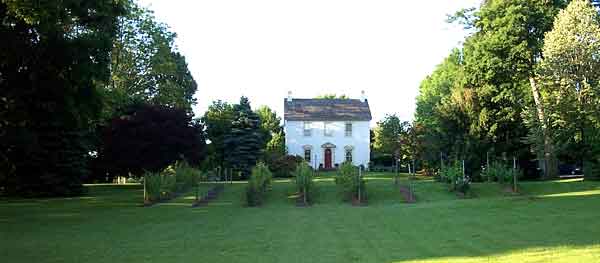 Chaddsford Winery office. Photo by S. Fox © 2002
The Chaddsford Winery is a fun place to take a break from your pursuit of history, art and antiques in the Brandywine Valley. The welcoming winery's staff won't make you feel embarassed if you don't know the difference between a Cabernet and a Pinot Noir...they'll make you feel right at home.

We recommend that you stop in for a wine tasting or check the schedule of events on the winery's web site. We have a new focus on our sweet/seasonal wine line and creating fun wine cocktails with these wines and fun events around the wines.

© Unica Online