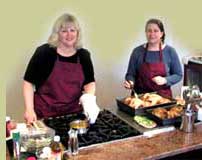 Owners Cindy Weiner & Angela Martinez

Celebrity Kitchens is a hands on recreational cooking school where amateurs learn to cook four course dinners, instructed by Master "celebrity" chefs. The classes are offered in either hands-on or demonstration format. An evening at Celebrity Kitchens is a gourmet dining experience that's entertaining, educational and delicious.

The dinners are created table side, in an up-close-and-personal demonstration, or by you in the hands-on experience. Appropriate wines are offered free with each course. You can either enjoy cooking with the chef or sit back and enjoy a thorough unique dining experience.



No matter what format or menu you select, you'll have a great time and go home with the recipes for the meal you selected. It's an evening out for dinner and a show, where dinner is the show. You'll meet great chefs from Wilmington, Rehoboth, Philadelphia and New York's finest restaurants as well as new friends in a small, shared, convivial atmosphere hosted by Celebrity Kitchens co-owners Cindy Weiner and Angela Martinez.

Menus at Celebrity Kitchens range from Sushi and tempura to Filet Mignon and all types varieties of seafood entrees along with salads, soups and fabulous desserts. Come learn and enjoy. Check the monthly event schedule for chefs and menus. Seating is limited to 24 people in demonstration format and only 12 in the hands-on experience, so don't wait. Call Celebrity Kitchens to reserve your seats for a really memorable experience.

GIFT CERTIFICATES AVAILABLE. FOR RESERVATIONS CALL 302 427-COOK

Copyright ©2002 Unica Multimedia 610.388.6841
EVENT SAMPLER
DEMO
12:00 - 3:00PM
Riche Griffin - $35
"From Stock to Finish"
Learn about stocks, soups and sauces
.........................
HANDS ON
6:00 - 8:30PM
Riche Griffin - $65
"Rhapsody in Food"
Clams Casino, Champagne Dressed Salad, Seafood Crepes, Sauteed Broccoli Rabe, Bacon Horseradish Potatoes, Coconut Creme Brule