Brandywine Valley Restaurant Guide

Whatever your taste in dining, be it elegant and formal or country casual, you can find it here served with a generous helping of Brandywine Valley hospitality. Enjoy our seafood, local specialties, ethnic and regional cuisine prepared by talented chefs who call the area home. Be sure to call for reservations and tell them you found them on TheBrandywine.com.



Restaurant Directories

CLICK BELOW FOR RESTAURANTS LISTINGS BY TOWN, TYPE & CUISINE

On the Restaurant Scene

Send your comments to: hello@thebrandywine.com

November 8, 2014


Classic Diner to open 2nd Diner in West Chester

After 20 years in Malvern the Classic Diner is expanding to West Chester, opening at 16 Gay Street and bringing its award-winning breakfasts to the Brandywine Valley. The West Chester Classic Diner will serve breakfast and lunch from 7:00 a.m. to 3:00 p.m. seven days a week. The diner is expected to open in early December.
www.theclassicdinerpa.com



Archived Reviews

Sixth & Pine Diner
Antica
Styers Garden Café
Kid Shelleen's
Bordley House
Cromwell's American Tavern & Taqueria
Harry's Savoy Grill
Harvest Seasonal Grill & Wine Bar
Lily Asian Cuisine Sushi & Grill
Michoacana Grill
Mushrooms Cafe
Twelves Grill & Cafe
Brandywine Brewing Co.
Kyoto Japanese Cuisine
Doc Magrogan's
The Whip Tavern
Catherine's
Harry's Seafood Grill

BRANDYWINE VALLEY CLASSICS
Subs & Cheesesteaks & Burgers

Philadelphia claims to have the best cheesesteaks, but don't say that around here. And when it comes to italian and turkey subs, forgetaboutit! You can find the best around at Capriotti's and Casapulla's.

Casapulla's Steak & Sub Shop
2702 Concord Pike, Wilmington, DE 302.477.0221
1216 Old Lancaster Pike, Hockessin, DE 302.234.7827

Capriotti's
Concordville Town Centre, 301 Byers Drive, Concord, PA 610-361-0300
877 E. Baltimore Pike, Longwood Shop Ctr, Kennett Sq. 610-444-4475
607 E. Market St., West Chester PA 610-719-0270
510 Union St., Wilmington, DE 302-571-8929
2124 Silverside Rd., Wilmington, DE 302-479-9818
300 Lantana Sq., Hockessin, DE 302-234-2322

Charcoal Pit
2600 Concord Pike, Route 202, Wilmington, DE 302-478-2165
This place hasn't changed since the '50s. Same great burgers, fries, shakes and cheese steaks.


© Unica Online 610.388.6841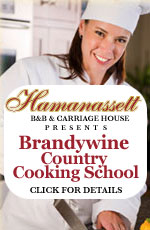 Local Specialties


The classic crab cake made from Chesapeake Bay Blue crabs can be found all over the Brandywine Valley in the summer. Another local favorite is the classic white mushroom. Kennett Square area growers also produce the more exotic shiitake, portobella, crimini and oyster mushrooms. Many of the area restaurants make mushroom soups made with the local product.