Brandywine Valley Restaurant Guide

Whatever your taste in dining, be it elegant and formal or country casual, you can find it here served with a generous helping of Brandywine Valley hospitality. Enjoy our seafood, local specialties, ethnic and regional cuisine prepared by talented chefs who call the area home. Be sure to call for reservations and tell them you found them on TheBrandywine.com.



Restaurant Directories

CLICK BELOW FOR RESTAURANTS LISTINGS BY TOWN, TYPE & CUISINE

On the Restaurant Scene

Send your comments to: hello@thebrandywine.com

May 4, 2014


junto, Chadds Ford

junto is a new restaurant that opened in the space that was Big Fork. It's a modern "farmhouse BYOB" that will prepare food grown and produced in PA and seafood sourced from the Atlantic between the Hudson and Chesapeake Bay...
Read more

March 21, 2014


Sixth & Pine Diner, Nordstrom, Christiana Mall

Sixth & Pine markets themselves as "A Hip Diner with the Heart of a Deli" which is accurate, but we call the restaurant our best kept secret.
Read more

January 27, 2014


Brandywine Chefs Going Off-Menu
At MidAtlantic Wine + Food Festival

by Roger Morris

It's no secret that our best regional chefs have their own coteries of foodies who can't wait to discover previously unrevealed talents of their favorite slicers and dicers. They - we - are the first to sign up for our chef's special-occasion dinners, to try out a new tasting menu or to book a behind-the-kitchen-door seat at a chef's table.

If this sounds like you, you may want to take an early look at the third annual MidAtlantic Wine + Food Festival taking place May 14-18 at various venues in Delaware and Pennsylvania 42 events over the four days.

"There will be 92 chefs in all, and what we will do in most instances is match local chefs with our invited international and national chefs." said MidAtlantic's director, Ajit George, during a recent lunch at Pizza by Elizabeths in Greenville, one of the participants in the festival, as he was taking a photo of his southwestern salad to post to Facebook. "I've got to do this so none of my chefs feel neglected," he explained.

Not all of these chef matches have been completed yet, but some local Brandywine valley chefs already have their assignments. A sampling includes:
Robert Wood and Yasuhiro Sano of the Cultured Pearl will have an interactive sushi and sake lunch at the Wilmington Library.
Bill Hoffman will have chefs from the Virgin Islands and Philadelphia helping him with his five-course "bacon and bourbon" dinner at his House of William & Merry in Hockessin.
Peter McMahon will come up from his kitchen perch at Ivy in Dewey Beach to host a winemakers dinner themed "black tie, bare feet" at a private mansion. He will be joined by a variety of out-of-town chefs.
Chef-about-town Dan Butler of Toscana will perform a pop-up dinner at the David Finney Inn in New Castle.
Dwain Kalup will open the doors at Domaine Hudson in Wilmington to Bronwyne Zeca Solomon of Morukuru family restaurant in South Africa for a "Taste of the Cape" wine luncheon.
Patrick D'Amico of Harry's Savoy Grill and Pagano's Anthony Stella will have an "interactive pasta-making lunch" at Harry's no foodie fighting allowed.
And fans of local delicacies will want to sign up for Hotel du Pont's Keith Miller's "scrapplegasm" in the Green Room.
For a complete listing of events and dates and to make reservations, go to ww.mawff.org.



Archived Reviews

Sixth & Pine Diner
Antica
Styers Garden Café
Kid Shelleen's
Bordley House
Cromwell's American Tavern & Taqueria
Harry's Savoy Grill
Harvest Seasonal Grill & Wine Bar
Lily Asian Cuisine Sushi & Grill
Michoacana Grill
Mushrooms Cafe
Twelves Grill & Cafe
Brandywine Brewing Co.
Kyoto Japanese Cuisine
Doc Magrogan's
The Whip Tavern
Catherine's
Harry's Seafood Grill

BRANDYWINE VALLEY CLASSICS
Subs & Cheesesteaks & Burgers

Philadelphia claims to have the best cheesesteaks, but don't say that around here. And when it comes to italian and turkey subs, forgetaboutit! You can find the best around at Capriotti's and Casapulla's.

Casapulla's Steak & Sub Shop
2702 Concord Pike, Wilmington, DE 302.477.0221
1216 Old Lancaster Pike, Hockessin, DE 302.234.7827

Capriotti's
Concordville Town Centre, 301 Byers Drive, Concord, PA 610-361-0300
877 E. Baltimore Pike, Longwood Shop Ctr, Kennett Sq. 610-444-4475
607 E. Market St., West Chester PA 610-719-0270
510 Union St., Wilmington, DE 302-571-8929
2124 Silverside Rd., Wilmington, DE 302-479-9818
300 Lantana Sq., Hockessin, DE 302-234-2322

Charcoal Pit
2600 Concord Pike, Route 202, Wilmington, DE 302-478-2165
This place hasn't changed since the '50s. Same great burgers, fries, shakes and cheese steaks.


© Unica Online 610.388.6841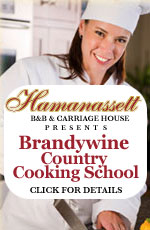 Local Specialties


The classic crab cake made from Chesapeake Bay Blue crabs can be found all over the Brandywine Valley in the summer. Another local favorite is the classic white mushroom. Kennett Square area growers also produce the more exotic shiitake, portobella, crimini and oyster mushrooms. Many of the area restaurants make mushroom soups made with the local product.