| | |
| --- | --- |
| The Court House, New Castle, DE. S. Fox © 2001 | |
Historic New Castle

Restaurants | Shopping | Lodging
This page updated February 2013.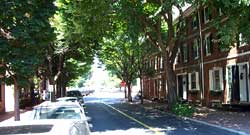 The historic town of New Castle, Delaware, established in 1651, is just 25 minutes or so from Buckley's Tavern in Centreville, at the heart of the Brandywine Valley and about 10 minutes from Rodney Square at the center of Wilmington.

The great thing about New Castle is that it's all real, not a colonial Disney creation. It is where you'll find great examples of colonial, Dutch and Federal architecture that are actually lived in by 21st century people, going about there daily lives as people have been doing in New Castle for quite a long while. They don't dress in colonial costumes and act at life, at least for 364 days of the year. Old New Castle Day, held on the third Saturday in May, is an exception.

The town is the where William Penn landed in the New World. A marker on the corner of The Strand and Delaware Street tells us he landed on October 27, 1682, proceeded to the fort and performed "livery of seisin", a common law ceremony transferring possession of lands. The ceremony in 1682 involved Penn taking a key, he was given "1 turf with a twig upon it, a porringer with river water and soil, in part of all".

While there may be nothing in Old New Castle that will raise your blood pressure, if you're looking for a relaxing stroll around a colonial town with a laid back attitude it's well worth the effort.

The road into Old New Castle is Delaware Street, a tree-lined affair with bricked sidewalks that are, in places, being torn apart by tree roots so watch your step. The street is lined with homes, bed and breakfasts, shops, a tavern or two and townhouses that date back to the to 1700s and earlier.

Delaware street opens into the Green where you'll find the Old Court House, built in 1732. The Court House was the place where the state's colonial assembly met from 1732 until 1777 when New Castle was Delaware's capital. You can tour the Court House Wed. - Sat. 10:00 - 3:30pm Sunday - 1:30 - 4:30PM. Closed Mondays, Tuesdays and State Holidays. Free Admission. Reservations needed for groups of ten or more.

The Green, and the town itself, was laid out in 1651 by Peter Stuyvesant, the Dutch Governor. It was the place where whatever was happening at the time happened, and where the old jail and gallows were located. It was also where "grand fairs" were held and the site of the weekly markets. Today, it's a great place to park your car and explore the town on foot. On 2nd Street, a quaint, dappled cobblestone thoroughfare, behind the Court House, is one of the oldest Presbyterian churches in the country.

On the other side of the Green, on 3rd Street you'll find the Dutch House, a late 17th century home furnished in the style of New Castle's early Dutch settlers. It's open April 1 - December 31, Wednesday - Saturday 10 am - 4 pm. Dutch House tours begin at 11 am, 1 pm, and 3 pm. Admission is $6 for adults. $10 for combination ticket to Amstel and Dutch Houses. Tickets are sold at The Arsenal at 30 Market Street in Old New Castle.The Amstel House on 4th Street is a colonial brick mansion, built in the early American Georgian style of architecture by Dr. John Finney. The house is furnished to reflect 18th and 19th century life in New Castle. The woodworking and architectural detailing is original. Hours: Wed. - Sat. 10AM - 4PM. Amstel House tours begin at 10 am, Noon, and 2 pm. Sunday, 12-4. Amstel House tours begin at Noon and 2 pm. (Tours are approximately 40 minutes)

The Old Library on 3rd Street, is built in the shape of a hexagon and in the Victorian style. Inside is an exhibit on New Castle's history. Self-guided tours are available May - November. Holidays: The Old Library Museum is closed on Memorial Day and July 4 for Independence Day.  Admission is free.



The George Read II House and Garden at 42 The Strand, is "the grandest mansion and oldest garden in New Castle." The house was completed in 1804 by the son of George Read, a signer of the Declaration of Independence. Owned by the Historical Society of Delaware it is run as a living museum. It is a showcase of the decorative arts of the Federal period. You'll see an iron balcony, marble window sills, trompe-l'oeil decoration, elaborate woodwork and plaster detailing.
Open Wed. - Fri. 11AM - 4PM, Sat. 10AM-4PM, Sun. 11AM - 4PM. Closed Major Holidays. Adults: $7.00. Seniors (over 65): $6.00.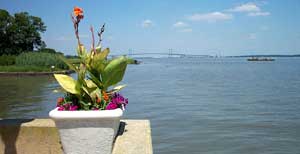 There are small antique and collectible shops, an art gallery and book and jewelry stores all about the town to browse through and if you want to spend a lazy afternoon watching the world go by, there's Battery Park with swings and slides for the children. You can get water ices and drinks from vendors near the river on weekends during the summer. From the park, the view of the Delaware River is panoramic. To your left, you can see the Delaware Memorial Bridges in the distance.

There is also an old ticket office for the Frenchtown Railroad, one of the first in America, near the park. It was moved there in the 1950s. The railroad was built in 1832 using granite sleeper blocks supporting wooden rails covered with iron straps. It was part of a water-rail-water route from Philadelphia to Baltimore and connected New Castle to the Elk River. Some of the granite sleeper blocks can be seen along the water's edge near the Wharf and a section of the strap rail can be seen near the old ticket office.

Directions to New Castle
From Chadds Ford or Kennett Square: Take Rt. 1 to Rt. 52 south. Go through Centreville to Greenville. Take Rt. 141 south just after Greenville. Stay on Rt. 141 until you see signs for historic New Castle.

From Wilmington: Take King St. south, toward the train station, and follow the signs to Rt. 13 South. From Rt. 13, watch for the exit for Rt. 141 to New Castle; it will be on your right.

For GPS purposes: Use the address of The Arsenal at Old New Castle which is on The Green near the Old Court House at the center of town. 30 Market St., New Castle, Delaware 19720




Caroline's
410 Delaware Street
302-757-1074
Breakfast & Lunch

Jessop's Tavern
302-322-6111
114 Delaware Street
Colonial comfort food with daily specials. We rate it as good. English and micro brew on tap. Single malt scotch. Dark, cozy interior with pewter plates and antiques. Seating: 12 tables and at the bar.
Reservations recommended.

Shoppes of the Three Crowns
Tea Room
302-221-0773
116 Delaware Street

Nora Lee's French Quarter Bistro
New Orleans cajun food
302-322-7675
124 Delaware St

Penn's Place
302-322-6334
206 Delaware Street
Coffee, lattes, beer, wine, desserts, pastries, salads, sandwiches, and soups
Open Tues. - Sunday from 8AM

Victorian Tea Room at the Opera House
302-326-1211
308 Delaware Street
Serving afternoon high tea.
Open every weekend. Reservations suggested.


Bertie's Bags & Sew on
302-324-9570
200 Delaware Street
Quality handmade bags, luggage, gifts.

Blue Heron Art Gallery
204 Delaware Street

Bridgewater Jewelers
302-328-2101
318 Delaware Street
Diamonds, colored stones, watches...

Cactus Wren Gallery
302-328-7595
406 Delaware Street
Fine Native American Jewelry and Art

Cobblestones
2nd Street
Antiques and collectibles

Common Goodes & Embellishments
302-328-4416
158 East Third Street
Makes and sells custom made period clothing and 18th century accessories for reenactors.

Historic Village Quilts
302-983-7838
304 Delaware Street

Kerry Elizabeth Jewelry
206 Delaware Street
302-388-8432

Lauren Lynch Antiques and Company
302-328-5576
5 Shaw Alley
Antiques, furniture, art, linens, books, collectibles.

Oak Knoll Books
310 Delaware Street
Specializing in books about books; collecting, papermaking, binding, printing, libraries.

Read House and Gardens Gift Shop
42 The Strand 
302-322-8411

Teleis Art
206 Delaware Street
302-250-2641

Two Morrow's Stitches That Count
306-B Delaware Street
302-328-7888
Cross stitch supplies. Accessories and charts of New Castle and Delaware. Custom framing. Gifts.

Very Venetia Gifts
206 Delaware Street
302-558-5565





Terry House Bed & Breakfast
302-322-2505
130 Delaware Street
Federal townhouse. Garden overlooking Battery Park and the Delaware River

Kentucky Derby Inn & Tea Room
302-324-8889
1 Shaw Alley
Accommodations or Tea - by appointment


© 2015 Unica Online