The Laurels at Landhope


The Laurels at Landhope, the first leg of the Jaguar Triple Crown of Combined Driving moves to a new 80+ acre venue in Unionville courtesy of the owners of Landhope Farms... therefore the name change. This is the Laurels' 12th year as a major combined event and the first year as an "international event" being conducted under the international rules of the Federation Equestrian Internationale (FEI) as formulated in 1968 by Britain's Prince Philip.

With this year's change in venue, the event will be able to accommodate larger crowds with parking for up to 1000 spectator vehicles. This is a big change from what had been an "insider's event" with limited exposure and promotion to the general public. Now the public will be able to watch this of horse training and driver skill and training over three days of high level competition involving three disciplines: dressage, marathon and cones.

Dressage, the first phase, tests the obedience of the horse and the accuracy of the driver over a prescribed pattern, much like mandatory figures in ice skating. While very esoteric in nature and meticulously judged, the dressage ring is more elegant than exciting to watch.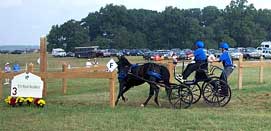 The second day is the marathon, a test of stamina, courage and agility. The course winds through the countryside and ends on the show grounds where the teams tackle a series of water and gate hazards located right in front of the spectator area and sponsors tent. The marathon is a time trial with penalty points accessed. Hazards are key. Competitors select their own paths through the hazards, but must drive through in sequence and cannot drive through a gate backwards. Red and white marking flags indicated the direction of a gate. Negotiating the gate hazards is like solving a maze while driving.

The final phase of the combined driving event is the cones, where the horse and driver are challenged to navigate through a narrow obstacle course marked by traffic cones. This test requires accuracy, and steady nerves. Knock down a cone, or dislodge one of the balls that's balanced on top and penalty points will be accessed. Scores are measured against time.

The winner of the combined event is determined by totalling the lowest number of penalty points accessed for all three events.

Some new things are planned this year which is sure to be a colorful happening of interest to horse lovers, equestrians and dog lovers too! There will, of course, be an expanded trade fair area with tents offering all manner of art, driving equipment, souveniers, food and drink. And there will be new Jaguars on display and much more.

Proceeds from the Laurels at Landhope benefit the Brandywine Conservancy, The Cheshire Hunt Conservancy, The Large Animal Protection Society and New Bolton Center.

Admission to the event is $10 per car, so load friend and family into your SUV and come on down.

For more information, map and directions click www.laurelscde.org

Copyright ©2002 Unica Multimedia 610.388.6841