Nemours Mansion & Gardens

Route 141 (Powder Mill Road) and Alapocas Drive
Wilmington, Delaware 19803
302.651.6913
www.nemoursmansion.org

Reservations are required for mansion and garden tours. You can make them online or by phone (302) 651-6913 or by e-mail. Be sure to give the reservation office two alternative dates, a day time telephone number (for confirmation), and your zip code. The reservation office is closed on weekends so messages left on the weekend will not be answered until the following Monday.



Overview

Nemours, the former 300 acre estate of Alfred I. du Pont, is named after the du Pont ancestral home in north central France.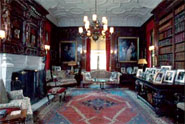 The Mansion is an excellent example of modified Louis XVI French château. It was designed by Carrere and Hastings of New York City and was built between 1909 and 1910 by Smyth and Son of Wilmington, Delaware. The mansion has 102 rooms and is furnished, as you would expect, with fine period antiques, rare oriental rugs, tapestries and paintings dating back as far as the 15th century.

The gardens, their design influenced by Mr. duPont's many trips to Europe, are beautifully landscaped and include a working carillon tower, natural woodlands and extensive formal French gardens.

Guided tours are the only way guests are able to see the house and grounds.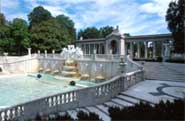 Tours take a minimum of two hours and include rooms on three floors followed by a bus tour of the gardens. The tours are excellent and the tour guides are very knowledgeable about the home, its furnishings and the life of the duPonts. You will see what it was like to live on a grand scale at the beginning of the 20th century, including the estate's billiard room and bowling alley, and necessities like the ice-making and bottling rooms.



Hours of Operation

Guided tours - May 1 through December 31. Tuesdays through Saturdays 9:30AM, 12PM & 3PM. Sundays: 12PM & 3PM.



Admission

Reservations are recommended for individuals and required for groups. The reservations office is open Monday through Friday, 8:30AM - 4PM. There is a $15 charge for admission. Visitors must be over 12 years old.



Handicap Accessible

Accessible to people with disabilities.



Camera Policy

Photographs are not permitted inside the mansion, but are permitted in the gardens.



Directions

Nemours is situated on Alapocas Drive and Route 141 (Powder Mill Rd.), on the property of the Alfred I. duPont Hospital for Children between Children's Drive and Route 202.

© Unica Online