On the Restaurant Scene

Send your comments to: hello@thebrandywine.com

1623 Baltimore Pike, Chadds Ford, PA - 484.770.8631
Reviewed by

TheBrandywine.com

on .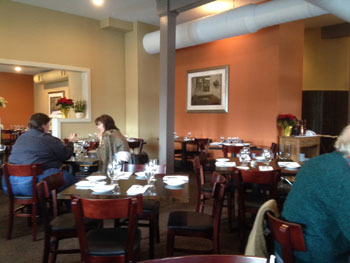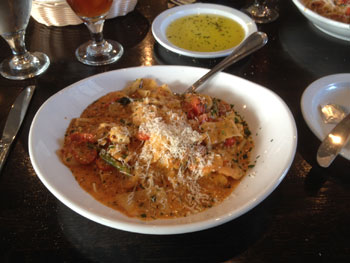 Antica had been open for six weeks by the time we got around to having lunch there on the weekend one week after black Friday. The restaurant wasn't very busy when we got there around 1PM, and we were surprised since the parking lot they share with Brandywine Prime was just about full. The buzz about the restaurant was good so we were expecting a good experience.
First off, the interior was much improved from the Brandywine Bistro which preceded Antica. The booths were gone and the walls were freshly painted in hues that complemented each other and worked well to show off the Wyeth prints that decorated the walls. Can't go wrong with Wyeth prints in Chadds Ford.
The menu offered a good mix of sandwiches, entrees and appetizers but we decided to go with the lunch special, Seafood Tagliatelle, a pasta dish with baby shrimp, crab meat, baby asparagus, sun-dried tomatos and a blush sauce. The pasta was long and flat, cut from sheets of pasta used for lasagna. It was amazingly good. The sauce was delicate yet complex with a little kick at the finish. The portion was generous, but not too much. As you know, there is no shortage of Italian restaurants in the Brandywine valley and when we heard that Antica was opening we were not sure what to expect. Well, expect to be impressed. We will be going back. We will also be trying their sister restaurant Il Granaio in Glen Mills. Same chefs, but a different menu. We expect it will be like a trip to Italy... lunch at Antica was. Excellent special, excellent service and pleasant ambience. If you like Italian, go. 12/7/2013
---
Archived Reviews
Sixth & Pine Diner
Antica
Styers Garden Café
Kid Shelleen's
Bordley House
Cromwell's American Tavern & Taqueria
Harry's Savoy Grill
Harvest Seasonal Grill & Wine Bar
Lily Asian Cuisine Sushi & Grill
Michoacana Grill
Mushrooms Cafe
Twelves Grill & Cafe
Brandywine Brewing Co.
Doc Magrogan's
The Whip Tavern
Catherine's
Harry's Seafood Grill